Choose from
Bransys Services
Bransys Solutions For Your Needs.
It's so easy now
About Our Company
Everything we do, we believe in optimizing the most important business challenges – time and money!
We are optimizing time and money by improving efficiency and productivity of all our clients by innovating custom software solutions and integrating complete system solutions. The biggest businesses challenges, are solved with the unique software and hardware solution, innovated and designed by Bransys Group, customizable for each client to reduce costs, and increase productivity, for different types of businesses, like transportation, distribution, mining, construction, waste management, taxi, vehicle road-worthiness test stations etc.
Despite our significant growth, we remain focused on innovation in the name of our clients' success.
Development
Design
Marketing
Sales
2016 / 2017
Bransys Awards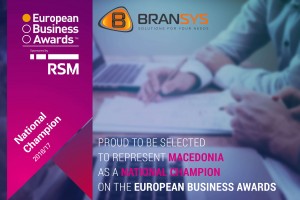 Bransys has been named a National Champion for Macedonia in The European Business Awards, sponsored by RSM; Europe's largest business competition set up to celebrate business excellence and best practice in the European business community. The Awards, now in its 10th year, engaged with over 33,000 businesses from 34 countries.
Adrian Tripp, CEO of the European Business Awards said: "Congratulations to Bransys who have been selected to represent their country as National Champions. They are central to the success of Europe's strong business community, and have shown the core principles we look for of innovation, ethics and success".
Bransys has been chosen after the first phase of judging by an independent panel. They were evaluated on the core EBA values of innovation, ethics and success and will now go through to the second stage of the competition, which includes a video and a public vote.
On 4th October 2016, Claxi was awarded with the prestigious MERIT MOBILE EXCELLENCE AWARD in this years' Global ICT Excellence Awards at the Gala Ceremony of the World Congress on IT – WCIT 2016 in Brasilia, Brazil.
Every two years, the WITSA Global ICT Excellence Awards recognize select organizations whose use of IT has exhibited exceptional achievement. This year among other IT companies from different countries around the world, Bransys was noted as a Merit Award Winner with its exceptional project – Claxi. Claxi was first selected as a winner of the MASIT ICT Awards 2016, after what, MASIT as one of the 82 members of the World Information Technology and services Alliance (WITSA) nominated Claxi for the Global ICT Awards. Claxi is a mobile application that unites all the taxi drivers and passengers with the option to choose between different offers on each sent request as a bidding platform. Claxi has unique concept based on the bidding platform. This way only Claxi app gives the opportunity on passengers and drivers to choose between different offers and requests and to choose the optimal option by their criteria.
WITSA Chairman Santiago Gutierrez was impressed by the candidates from around the world for the 2016 WITSA Global ICT Excellence Awards and congratulated Bransys for the Merit award for Claxi.
Mr. Branko Trajkovski – founder of Bransys, also added that the award was in fact the achievement of its team as they all cooperated to make this happen. "We are proud to receive one more recognition this year, first as a National Champions of the European Business Awards and now as a Merit Award winners on the World Congress on IT. This is proof to us that we have positioned as leaders and top innovators in the modern life society."
The Awards program aims at identifying the most outstanding users of information and communications technology. Held every two years, the WCIT is covered by hundreds of local and international media representatives as well as approximately 2,500 high ranking delegates from around the world. WITSA represents IT industry associations in over 80 countries or economies.